Published just recently, a new open access EU BON article discusses the need for additional research efforts beyond standard biodiversity monitoring to reconstruct the impacts of major anthropogenic pressures and to identify meaningful temporal baselines for biodiversity.
The article, published in Scientific Reports, reports on the temporal baselines that could be drawn from biodiversity monitoring schemes in Europe and compares those with the rise of important anthropogenic pressures.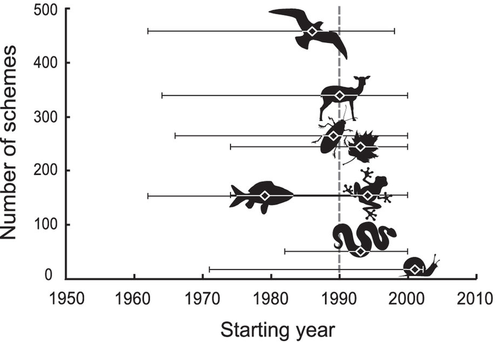 With most biodiversity monitoring schemes initiated late in the 20th century, well after anthropogenic pressures had already reached half of their current magnitude, the team of scientists found that setting temporal baselines from biodiversity monitoring data would underestimate the full range of impacts of major anthropogenic pressures.
The authors stress that these limitations need to be explicitly acknowledged when designing management strategies and policies as they seriously constrain our ability to identify relevant conservation targets aimed at restoring or reversing biodiversity losses.
Find out more in the original research paper:
Mihoub J B, Henle K, Titeux N, Brotons L, Brummitt N A, Schmeller D S (2017) Setting temporal baselines for biodiversity: the limits of available monitoring data for capturing the full impact of anthropogenic pressures. Scientific Reports. http://dx.doi.org/10.1038/srep41591
The Final EU BON Meeting is scheduled to take place from 14-16 March 2017 at the Royal Belgian Institute of Natural Sciences in Brussels and at the stunning backdrop of Botanic Garden in Meise.
EU BON invites all interested parties to mark the dates in their diaries and come to learn about the project's results and outputs some of which are presented in this newsletter and some are yet to come.
More information is available on the Conference website: http://symposium.eubon.eu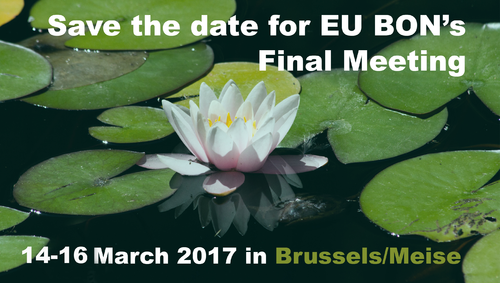 A new report has been added to the dedicated EU BON Outputs Collection in the innovative RIO journal. The paper reviews biodiversity related citizen science in Europe, specifically the data mobilization aspect and gives an overview of citizen science related activities in the project EU BON.
In addition, recommendations for a Pan-European citizen science gateway and data mobilization efforts will be given, with the aim of filling in existing biodiversity data gaps. Also the EU BON citizen science gateway is described, which is a part of the European Biodiversity Portal (http://biodiversity.eubon.eu) with citizen science related products.
Citizen science is a vital element for EU BON with regards to biodiversity information sources that provide data for research and policy-making. CS data are used by many research institutes, public organisations and local data portals. CS data offer volumes of field data, which would otherwise not be possible to collect with the limited resources of research institutes and agencies. Thus one of the main targets for EU BON is to make CS data available through various efforts, for example through networking and by using new technologies for data mobilisation. Overall, one of the main goals of a common EU citizen science Gateway is to integrate CS data for European biodiversity research. EU BON also seeks to develop a strategy for achieving this goal and encourages educational aspects of citizen science through networking and the development of tools.
Original Source:
Runnel V, Wetzel F, Groom Q, Koch W, Pe'er I, Valland N, Panteri E, Kõljalg U (2016) Summary report and strategy recommendations for EU citizen science gateway for biodiversity data. Research Ideas and Outcomes 2: e11563. https://doi.org/10.3897/rio.2.e11563
The 4th EU BON roundtable took place on 17 November 2016 in the Museum für Naturkunde in Berlin. Focused on the topic "Pathways to sustainability for EU BONs network of collaborators and technical infrastructure" the 35 participants discussed key questions with regards to the sustainability of the EU BON network and products, and shared their rich expertise, coming from different backgrounds ranging from science to policy.
The Roundtable brought together key European users and stakeholders, such as the European Environment Agency, UNEP GRID, and the GEO secretariat, including 27 different institutions and organisations, as well as European funded projects, infrastructures and networks that share the EU BON objectives of assembling biodiversity and ecosystem-related data and knowledge, such as Lifewatch, the European Citizen Science Association (ECSA), ECOPOTENTIAL, EKLIPSE and others.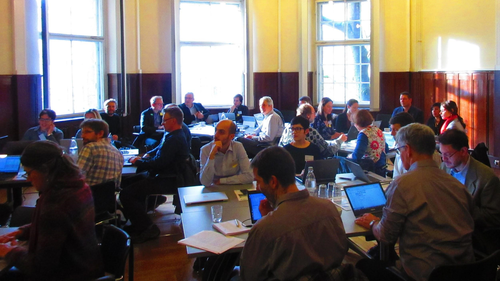 Credit: Florian Wetzel
In her welcome address, Katrin Vohland, head of the Science Programme "Public Engagement with Science" and task lead for stakeholder engagement in EU BON explained that key lessons learnt are that:
stakeholder identification may yield unexpected results as in the case of EU BON where next to scientifically based organisation less practitioners but more citizen scientists seem to become stakeholder;

early and continuous connections are necessary, as for example to other EU initiatives and projects;

target group specific communication avoiding acronyms helps; and

the idea of teal organisations may support overcoming the limitations to make networks economically sustainable - which are important but non-monetary assets.
While former Roundtables addressed European policy, citizen science and the link to practitioners, this final EU BON Stakeholder event discussed the future and sustainability of the European biodiversity observation network and its products and tools.
Key questions for the participants were:
How can the many different EU BON products be sustained and further developed after the project ends in May 2017?

Which institutions will host the products in the future and what key products could be further developed by EU BON to meet European and global policy and research needs (e.g. for monitoring, reporting)?

How can a European Biodiversity Network as a whole be sustained in order to serve as a central infrastructure and pool of expertise for generating biodiversity data and information on a European scale?
Ideas and plans were developed to secure the sustainability and long term re-use of EU BON products. More information on the outcomes of the meeting can be found below in the minutes and the presentations given during the day.
The report form the meeting was officially published in RIO Journal as a part of the dedicated EU BON outputs collection:
Wetzel F, Despot Belmonte K, Bingham H, Underwood E, Hoffmann A, Häuser C, Mikolajczyk P, Vohland K (2017) 4th European Biodiversity Observation Network (EU BON) Stakeholder Roundtable: Pathways to sustainability for EU BONs network of collaborators and technical infrastructure. Research Ideas and Outcomes 3: e11875. https://doi.org/10.3897/rio.3.e11875
For further information please contact:
Dr. Katrin Vohland, Museum für Naturkunde Berlin, Email: katrin.vohland@mfn-berlin.de
Dr. Florian Wetzel, Museum für Naturkunde Berlin, Email: florian.wetzel@mfn-berlin.de
Presentations from the meeting:
2. Key achievements _ Christoph Häuser
3.1 EUBON Products_ Lauren Weatherdon
3.2 EU BON products and stakeholders_David Rose
4. EU BON and modelling tools_Bill Kunin
5. CS and EU BON tools_Bernat Claramunt
6. Businessplan_Sustainability_Dirk Schmeller
7 .EKLIPSE_EUBON_Carsten Nesshöfer-Dirk Schmeller
8. EEA - EEA_EU BON_Beate Werner
9. LifeWatch_Wouter Los_Christos Arvanitidis
10. Thoughts on Sustainability_Gary Geller
11. Biodiversity data, gaps and effors_Florian_Wetzel
12. EUBON-portal_Tim Robertson
Recently published the GEO Handbook on Biodiversity Observation Networks presents a powerful resource that will provide valuable guidance to those committed to protecting, sustaining and preserving biodiversity across the planet. The practical experience which GEO BON has accumulated through its own actions, and through the efforts of its network partners, is a valuable resource to biodiversity information systems everywhere—from those just starting out in places where there has previously been little information, to large operations holding vii enormous amounts of data and wishing to know how better to use it.
The Group on Earth Observations (GEO) is a voluntary international partnership of 102 governments and 92 participating organisations which share a vision of a future in which decisions and actions for the benefit of humankind are informed by coordinated, comprehensive and sustained Earth observations. GEO achieves its mission largely through self-organising communities focused on important Earth observation domains where decision-making will benefit from data that is shared broadly and openly. These communities form connected systems and networks, creating a Global Earth Observation System of Systems (GEOSS).
During its first ten-year implementation period, 2005–2015, GEO identified biodiversity as a key 'Societal Benefit Area', resulting in the formation of the GEO Biodiversity Observation Network, GEO BON. As GEO moves into its second, ten-year implementation period, GEO BON is recognised as one of its strongest communities. It has helped to mobilise and coordinate the data and information needed for an effective response to the global threats faced by organisms, species and ecosystems. In collaboration with international treaty bodies such as the Convention on Biological Diversity (CBD) and the Ramsar Convention on Wetlands of International Importance, GEO BON has worked with national conservation agencies and non-governmental organisations at scales from regional to global. These efforts have revealed both the benefits of working together and the challenges of such a complex, but urgent task, not least of which is filling the remaining large gaps in data and information.