30.12.2013
Citizen Science and EU BON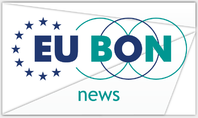 On 19 Nov 2013, a one-day EU BON workshop took place at the Leibniz-Association Headquarter in Berlin to further develop the strategy for citizen science in the project. The workshop was a joint workshop of both work package 1 and work package 6 (organized by MfN and UTARTU) to bring together the partners from EU BON that work in the area of citizen science. Furthermore, the workshop aimed to discuss and plan the further activities regarding the next stakeholder roundtable on Citizen Science which is scheduled for 2014.
In the morning session, participants gave an overview of citizen science activities within Europe. Eight presentations from partners gave insight into citizen science initiatives and showed interesting approaches of how citizens can be involved and how datasets with information on biodiversity can be generated (please find the pdf of the presentations and minutes of the meeting below). Linda Davies, director and initiator of OPAL, one of the Europe's most well-known citizen science initiatives, encouraged to emphasize not just data-value of citizen science, but to look for educational and awareness-rising aspects.
After an informative session there were discussions how to proceed with citizen science related tasks in EU BON. The workgroup was formed to take next steps for developing the concept of a European citizen science strategy within EU BON. It was decided that best practice examples will be used to outline the most efficient methods for incorporating citizen science in biodiversity research. Many other next steps were discussed for EU BON's citizen science initiative (definition of the concrete role EU BON can and should play, technical solutions for citizen science data and projects, further involvement of Citizen Science stakeholders, identification of gaps).
EU BON will further intensify the dialogue between different groups related to citizen science, after a big step was done by this meeting. For example, in the next EU BON stakeholder roundtable, stakeholders such as the EEA, DG Research and Communication, ECSA, Eye on Earth and other users from political administration and scientists will be involved to discuss their needs and the contribution EU BON may provide.
For further questions please contact Katrin Vohland or Veljo Runnel
Presentations from the meeting:
Cristina Garilao - FishWatcher
Falko Glöckler - Anymals and Plants
Katrin Vohland - Citizen Science Germany
Katrin Vohland - Preparation of citizen science stakeholder meeting
Thanos Dailianis - Greece SC Project COMBER
Veljo Runnel - CS Science in Estonia
Wouter Koch - Norway CS Project Artsobservasjoner
Israel Peer - CS Status in Israel - GlueCAD
Minutes of the Meeting - Citizen Science Workshop

Print this article