17.06.2015
Three new Associated Partners join the EU BON family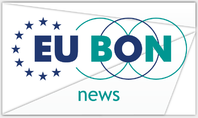 Our family of Associated Partners has grown with three new members that joined us this month. EU BON has signed MoUs with the GLOBal Infrastructures for Supporting Biodiversity research (GLOBIS-B), the Institute of Geosciences and Earth Resources of the National Research Council of Italy (IGG-CNR) and ECOPOTENTIAL: Improving Future Ecosystem Benefits through Earth Observations, The hand over took place during the 9th GEO European Projects' Workshop in Copenhagen (15 – 16 June 2015).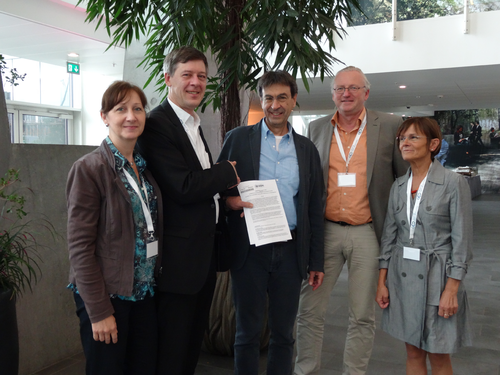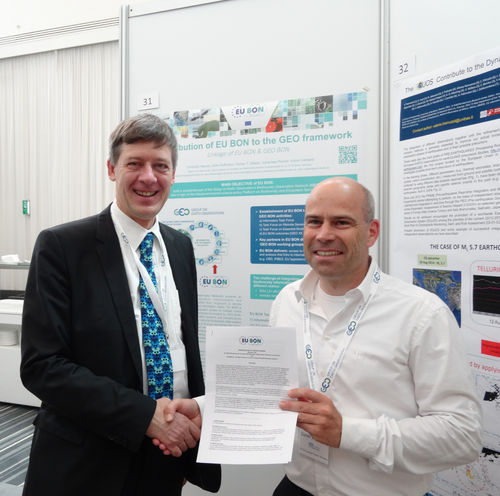 Left: EU BON coordinator Christoph Hauser and Anke Hoffmann handing over the MoUs to our partners from IGG-CNR and ECOPOTENIAL Antonello Provenzale, Carl Beierkuhnlein and Palma Blonda; Right: Handing over the MoU to Daniel Kissling - scientfic coordinator of GLOBIS-B; Credits: Anke Hoffmann

The GLOBIS-B project is a new H2020 project aiming to bring together biodiversity scientists with research infrastructure operators and legal interoperability experts to address the research needs and infrastructure services required to calculate Essential Biodiversity Variables (EBV) at a global scale.
ECOPOTENTIAL makes significant progress beyond the state-of-the-art and creates a unified framework for ecosystem studies and management of protected areas (PA). ECOPOTENTIAL focuses on internationally recognized PAs in Europe and beyond in a wide range of biogeographic regions, and it includes UNESCO, Natura2000 and LTER sites and Large Marine Ecosystems. Best use of Earth Observation (EO) and monitoring data is enabled by new EO open-access ecosystem data services (ECOPERNICUS).
IGG-CNR conducts studies based on mineralogy, petrology, geochemistry, geodynamics and geophysics, aimed at understanding the processes occurring both in the interior and at the surface of the Earth, and providing the fundamental knowledge for the applications (technological use of geomaterials, mitigation of the natural risks and correct management of the Earth resources for a sustainable development).

Print this article