09.06.2016
ConnectinGEO: a new EU BON associated partner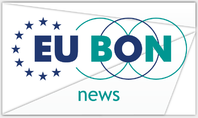 The 10th GEO European Projects Workshop that took place from 31 May - 2 June, in Berlin, was a success for EU BON in many ways. Among the significant achievements was signing a Memorandum of Understanding with the ConnectinGEO project to add this important initiative to our ever-growing list of associated partners.
The MoU handed over by EU BON coordinator Dr. Christoph Häuser to Dr. Joan Masó, coordinator of ConnectinGEO.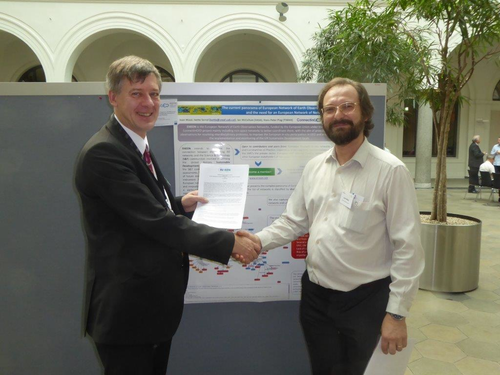 Handing over the MoU between Christoph Häuser, EU BON (left) and Joan Masó, ConnectinGEO (right); Credit: EU BON
ConnectinGEO is under the umbrella of GEOSS and the EU funding with the aim of linking existing coordinated Earth observation networks with the science and technology (S&T) communities, the industry sector and the GEOSS and Copernicus stakeholders. The goal is to facilitate a broader and more accessible knowledge base to support the needs of the GEO Societal Benefit Areas (SBAs) and their users. A broad range of subjects from climate, natural resources and raw materials, to the emerging UN Sustainable Development Goals (SDGs) will be addressed.

Print this article