28.05.2013
Investing in green infrastructure will bring multiple returns to nature, society and people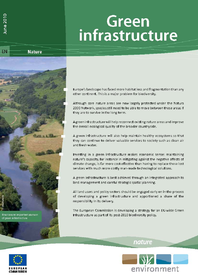 The European Commission adopted a new strategy for encouraging the use of green infrastructure, and for ensuring that the enhancement of natural processes becomes a systematic part of spatial planning. Green Infrastructure is a tried and tested tool that uses nature to provide ecological, economic and social benefits. Instead of building flood protection infrastructure, for example, a green infrastructure solution would be to allow a natural wetland to absorb the excess water from heavy rain.
Green infrastructure is often cheaper and more durable than alternatives provided through conventional civil engineering. Biodiversity-rich parks, green spaces and fresh air corridors can for example mitigate the negative effects of summer heat waves. In addition to the health and environmental benefits, green infrastructure also brings multiple social benefits: it creates jobs and makes cities more appealing places to live and work. And it allows for wildlife to thrive, even in an urban context.
Environment Commissioner Janez Potočnik said: "Building green infrastructure is often a good investment for nature, for the economy and for jobs. We should provide society with solutions that work with nature instead of against it, where that makes economic and environmental sense."
More about the EC Green Infrastructure here: http://ec.europa.eu/environment/nature/ecosystems/index_en.htm

Print this article