17.06.2013
EUBrazilOpenBio announces 2 new training tools covering Ecological Niche Modeling and Cross-mapping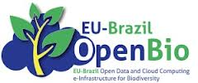 The EUBrazilOpenBio project announces two new training tools as a part of its e-training Programme aiming at educating and enabling current and potential users of EUBrazilOpenBio to unlock new knowledge and shape effective policy on biodiversity challenges. The new tools cover the following use cases: Ecological Niche Modeling and Cross-mapping.
The EUBrazilOpenBio anytime, anywhere eTraining tools are designed for researchers in the spheres of Biodiversity, Life science, Climate Change, application Developers as well as regulatory authorities and policy decision-makers.
EUBrazilOpenBio is focused on tackling the complexity of biodiversity science such as the diversity of multidisciplinary datasets spanning from climatology to earth sciences by integrating advanced computing resources with data sources across Europe and Brazil.
For more informationand to try out the new tools click here.

Print this article