15.06.2016
EU BON at the 10th GEO European Projects Workshop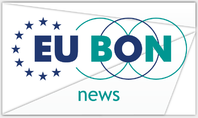 The 10th GEO European Projects Workshop took place from 31 May until 2 June 2016 in Berlin, Germany. Representatives from science, business and public administration met in Berlin to discuss how European Earth observation initiatives can contribute to the Global Earth Observations System of Systems (GEOSS).
The workshop, was jointly organised by the European Commission, the Federal Ministry of Transport and Digital Infrastructure of Germany, and the Museum für Naturkunde - Leibniz Institute for Evolution and Biodiversity Science. A wide range of events gave projects the opportunity to showcase their work and findings and discuss the future of earth observations. The event also featured a series of world cafés where, in a more informal and relaxed environment, experts could discuss topics focused on different aspects and challenges for biodiversity and ecosystem observation for the next ten years.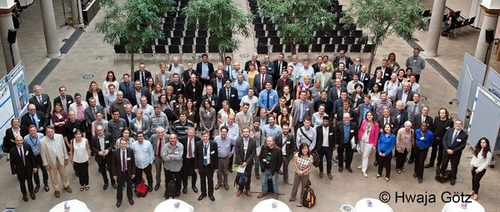 Group photo of the participants at the 10th GEO European Projects Workshop; Credit: H. Götz
During the meeting EU BON was presented at a specialized session focusing on the "Challenges for Biodiversity and Ecosystem Observation for the Next Ten Years". EU BON's co-ordinator Dr. Christoph Häuser alongside project partner and WP2 leader Dr. Hannu Saarenmaa presented the latest project developments and results.
#GEPW16 @EUBON1 Christoph Häuser: gaps in biodiversity data in Europe pic.twitter.com/4j02nlUUxJ
— ENEON (@ENEONetwork) June 2, 2016
Special attention was paid to presenting and explaining the functionalities of the recently launched beta version of the EU BON European Biodiversity Portal, which aims to provide a substantial part of GEO BON's Global Portal.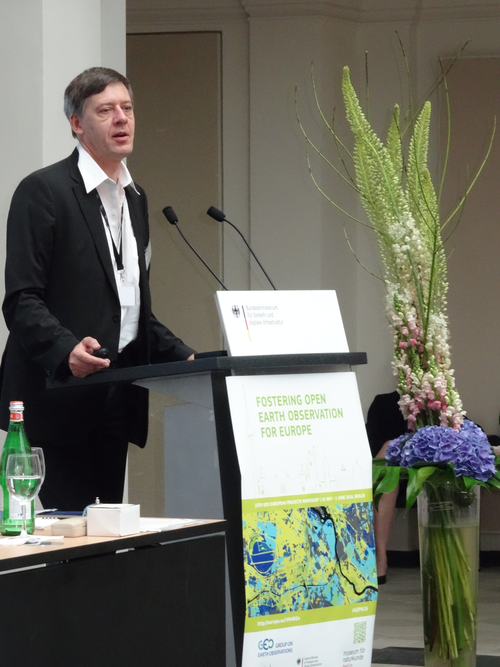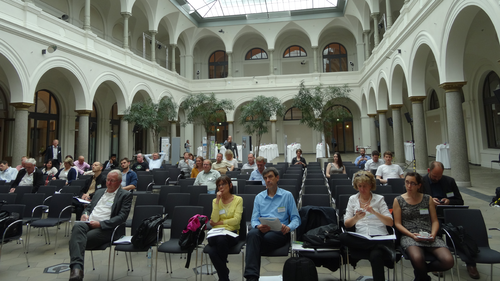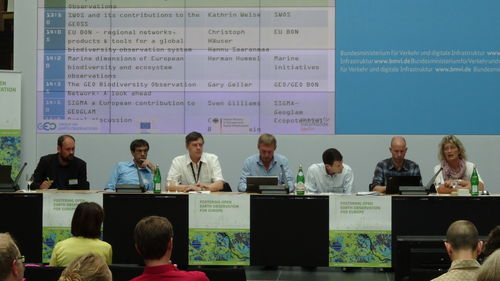 Clockwise from top left: Dr. Christoph Häuser presenting EU BON; Audience of the 10th GEO Projects Workshop; Panel at the Biodiversity and Ecosystem session; Credits: Florian Wetzel, Hwaja Götz and Anke Hoffmann.
For further information see:
Find out more resources on the official event webpage.

Print this article