26.02.2014
Stakeholder engagement and implementation of EU BON: WP6/WP7 kick-off, Leipzig, Germany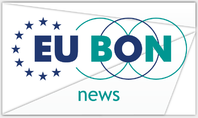 The official kick-off of the EU BON project WP6 Stakeholder engagement and science-policy dialogue and WP7 Implementation of GEO BON: strategies and solutions at European and global levels took place on 18-19 February 2014 in Leipzig, Germany. The two work packages are a crucial part of the project outlining the future actions towards ensuring the integration of the project with its global counterpart GEO BON, as well as paving the road towards successful stakeholder and policy engagement.
As a result of this first meeting further short-term and long-term steps were outlined for WP6 and WP7 towards the achievement of main project objectives. These steps include shaping the future EU BON GEO BON interactions and EU BON's approach towards stakeholder engagement.
In the following interview Ilse Geijzendorffer gives an insight on the outcomes from the meeting.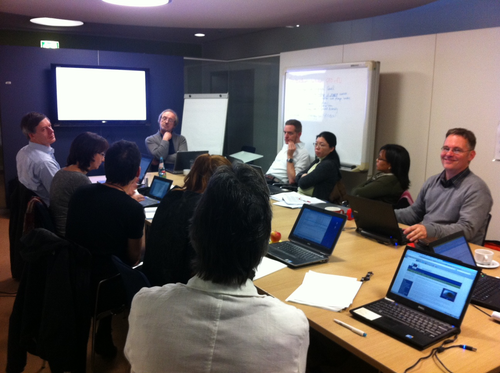 This image shows the discussions during the WP6/WP7 kick-off meeting. Credit: Eugenie Regan
1) What are the project's main stakeholders that you are planning to approach and interact with in the future?
EU BON aims to develop a blue print for a data infrastructure for data handling, storage, indicator computation and transfer of knowledge via a data portal available to knowledge seekers. This data infrastructure thus has to be useful to data holders who want their data to be used (e.g. citizen scientists, nature associations, scientists) and to those that seek knowledge (e.g. reporting bodies). EU BON reaches out to these stakeholders and to bodies that would be interested to host or have such a data infrastructure themselves. Our first stakeholder round table focused on European knowledge seekers and existing data portals. Our second stakeholder round table planned for this summer will focus on citizen scientists and the organisations that currently handle the citizen science data, to receive input on what these two stakeholder groups would like to see in such a data infrastructure blue print.
At the same time we reach out to ongoing platforms that consist of networks of knowledge and that have needs regarding their data flow. A very important partner in the data infrastructure development is GEO BON. The coordination of GEO BON has just changed and EU BON will reinforce the ties with GEO BON during the General Assembly in Crete coming in April.
2) Science-policy dialogue proves to be a crucial part for the success of large scale projects like EU BON, how are you tackle this challenge?
The objective of EU BON is a moving target in the sense that the blue print for data infrastructure will need to suit the needs for current and future monitoring. Additionally, the actual implementation, funding and hosting of such an infrastructure could be within a structure that may not yet exist in that form today. Changes in mission, coordination and targets occur constantly. To profit from lessons learned, we are in close contact with the Biodiversity Knowledge Project; a project that has already gained experience in the last four years in identifying the most important elements for handling data requests from knowledge seekers and in developing a suitable management plan.
For EU BON to achieve and reach its moving target, we keep in touch with the changes within the biodiversity knowledge landscape (e.g. progress in IPBES, CBD reporting, European targets ad evaluations); we explore multiple scenarios for the data infrastructure, the business plan and the implementation options; and we collaborate with a large range of stakeholders to include not only their ideas and needs, but also the transitions that they go through.

Print this article